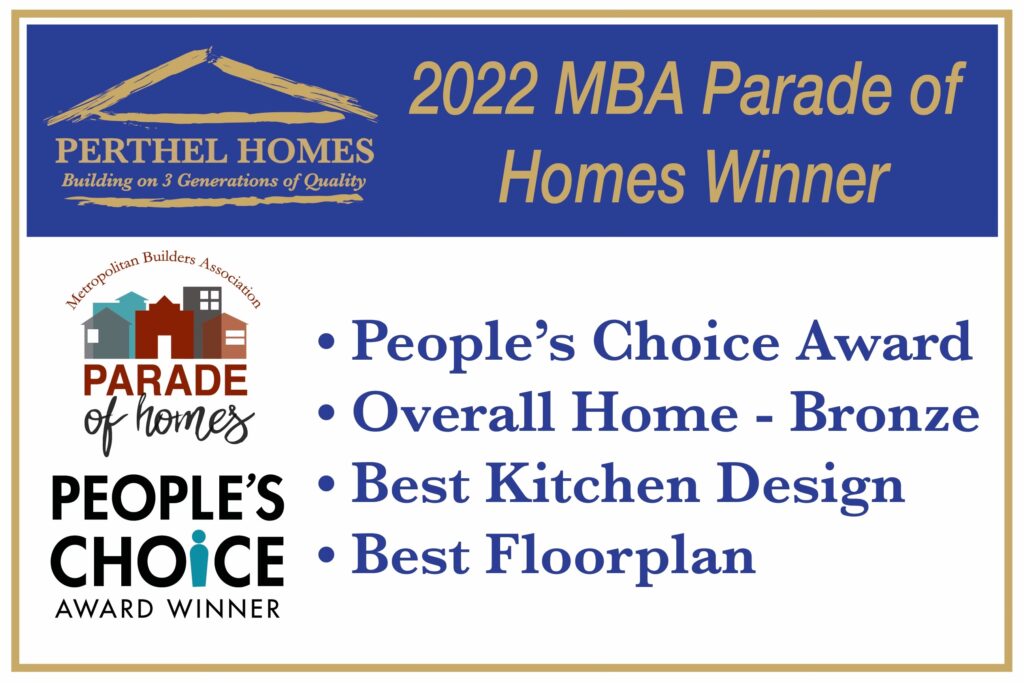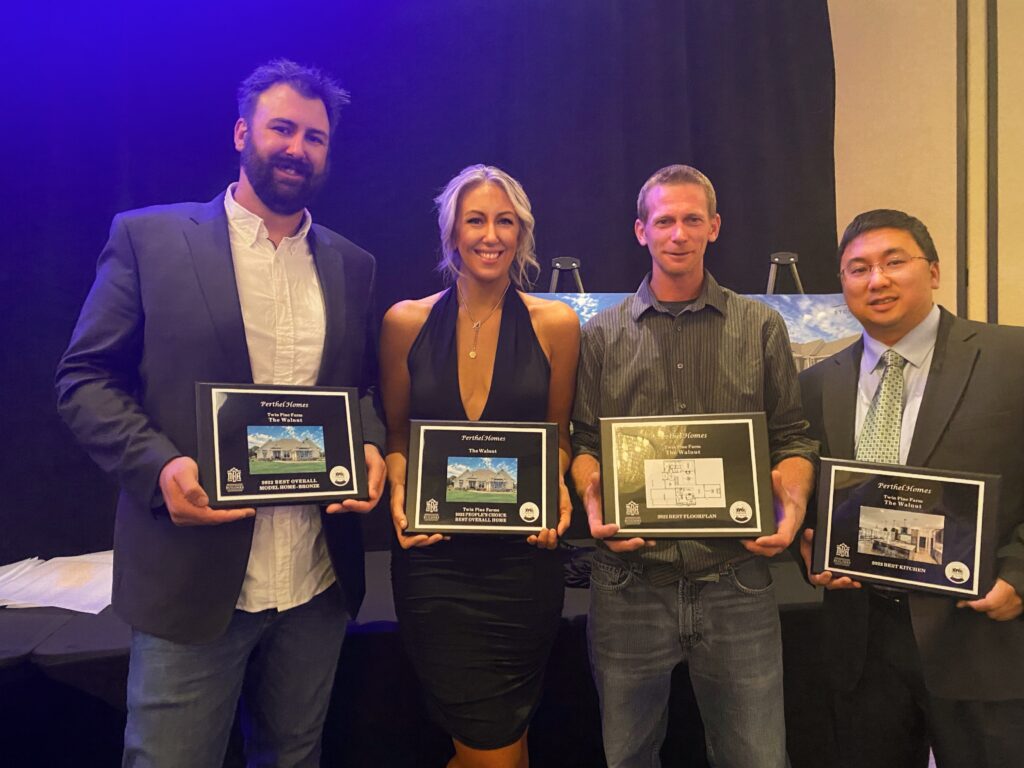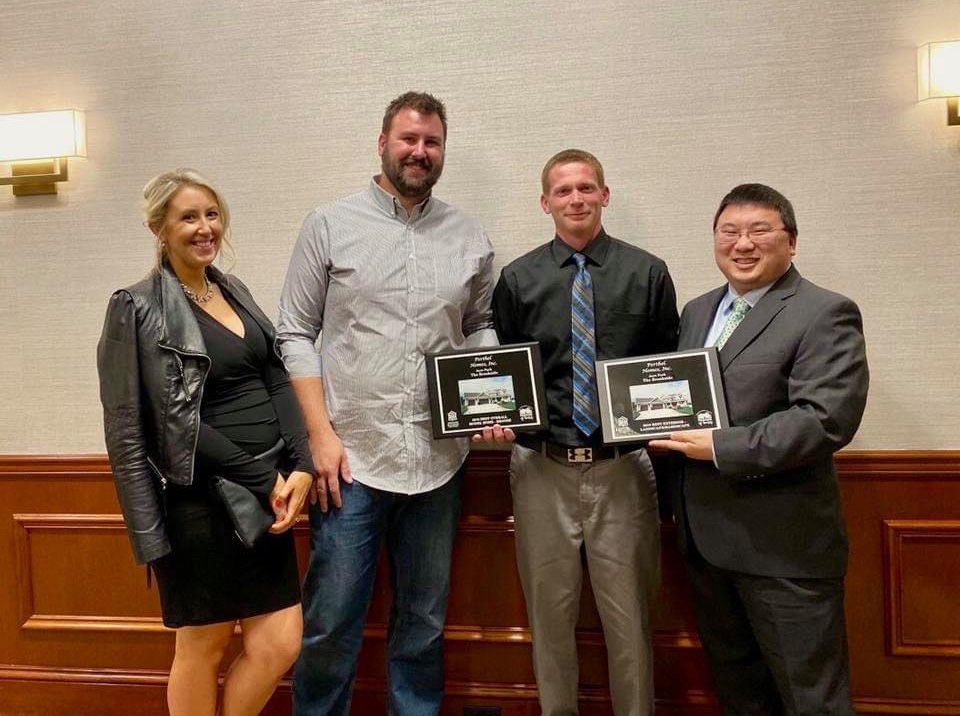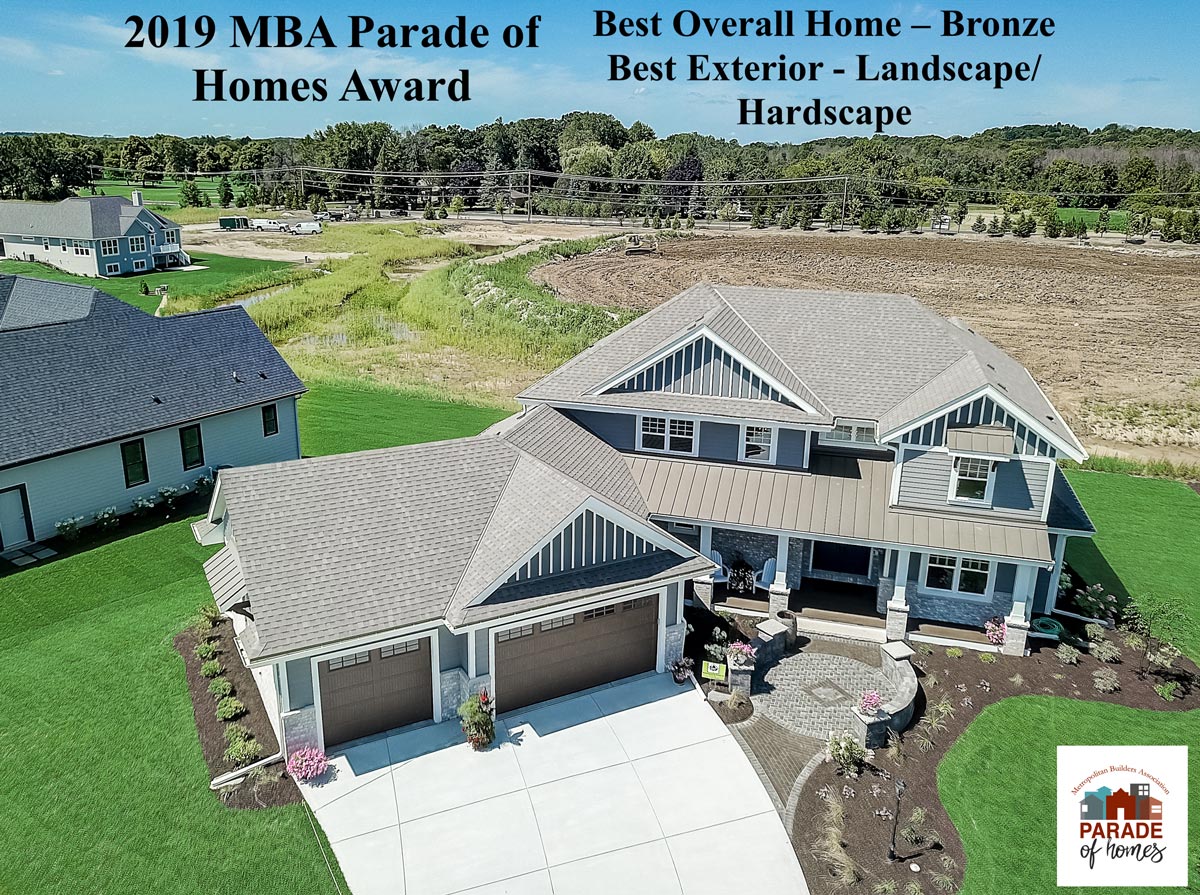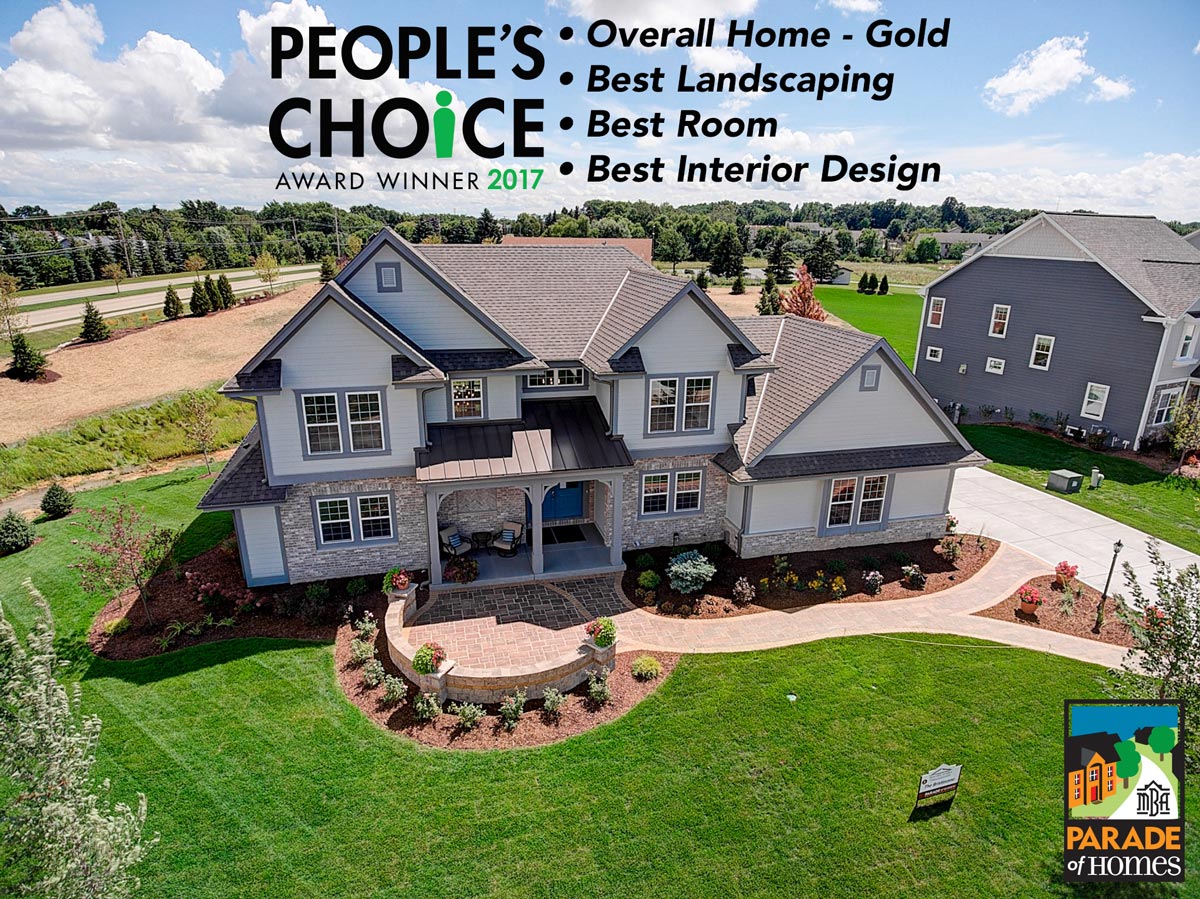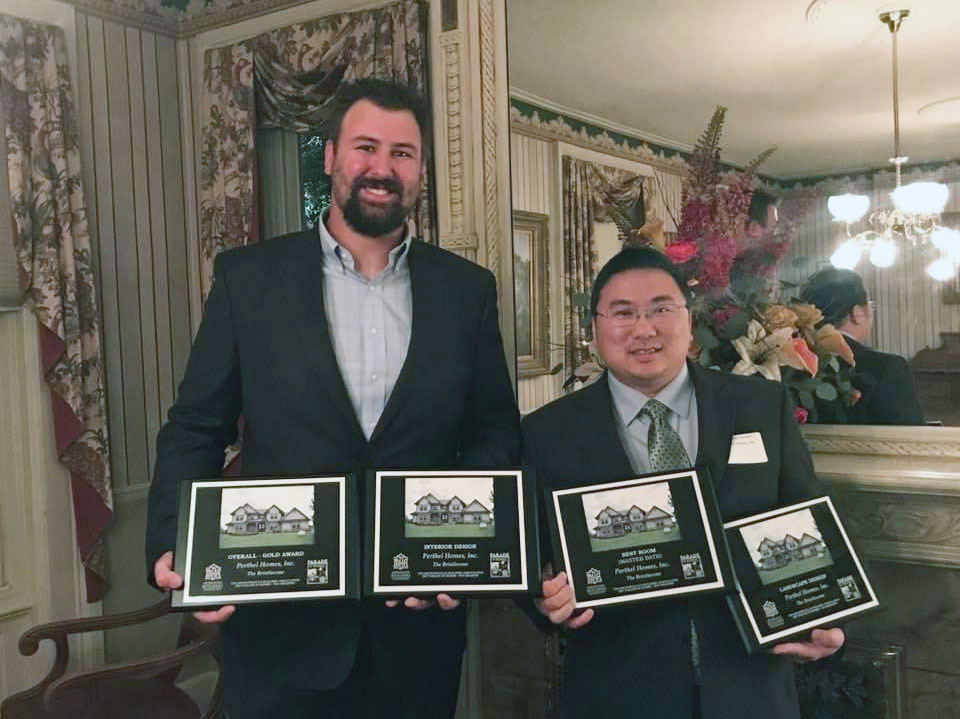 We were nervous about building our first custom home, but found ease working with Ben at Perthel Homes. Ben was proactive and was always a step ahead of us in the design process. He has great expertise and knowledge in all areas of the home build. Ben would respond at all hours of the day and was always willing to meet with us on the weekends and nights (even though he had a newborn at home). Perthel's quality of work is above and beyond any other builder that we had met with. Each builder wanted to "upcharge" for a higher quality product. Perthel Homes only uses the highest quality and is included in the base price. When talking with others that have built with other builders, no one comes close to the great experience we had with Perthel. We know we will be building again with them in the future!!!
Great experience dealing with Perthel, very professional. We moved into a new build home, quality of build and interior were high, any things we needed to address were dealt with promptly and without fuss. We would definitely use Perthel in the future.
Perthel Homes did an amazing job with our home, they put a lot of thought into their designs. Working with Ben was a fantastic experience and I highly recommend him and his team. With Perthel you get a personalized experience that you don't get with larger builders.
We bought this beautiful custom home from Perthel back in June. The design and the nice custom features and options that came with made it stand above all other houses we saw during our house hunting trip. I continued be get gladly surprised after I moved as I was discovering features that I didn't know the house had: electrical outlet to power light on the pergola, speakers, programmable fireplace, etc. We are absolutely delighted with the house, its design and quality - This is our 5th house and best builder experience. My new neighbors have all expressed the sale high level of satisfaction with Ben and Perthel Homes.

We saw many homes and visited few builders during our house hunting trip. Ben (from Perthel) made a BIG difference and a great 1st impression. He was very knowledgeable about the construction and features and answered all our questions with great professionalism. He accommodated a couple follow-up visits and our specific timing requirements for the closing (due to our relocation). Ben also came a few times to the our house after we bough it to answer follow-up questions.

I recommend Perthel Homes as your main option if you are looking for your next home.
The craftsmanship, attention to detail, fair pricing for upgraded options, materials, and service was all outstanding. We could not have been happier throughout the entire process of building our home. Excellent communication on a regular basis using the available tech tools allowed us to make all our decisions while being over 2000 miles away in another state! I would highly recommend Perthel Homes! It was a wonderful experience for our family. Thanks Ben, to you and your team of professionals…
We dealt mostly with Ben Perthel during the addition of a 3 season room on the back of our house. Perthel Homes built our house in 2010 so we contacted them to give us a quote for a long awaited 3 season room. From figuring out roof lines, to design, to completion, Ben was there always checking in on progress and keeping us in the loop with what was going on. He is 100% accessible via email or text. He responds almost immediately. He is very honest. There were a couple days where not much got done and he was very honest and let us know there was a big project in Brookfield that needed to get finished first. Other than that, there was no waiting. It seemed everyday something was happening.

Ben is very knowledgeable about so many things. He helped my husband design where speakers should go inside and out for tv, music, etc. He was willing to try stain on the ceiling instead of painting it like he suggested initially. He even helped fix my garbage disposal!

I would highly recommend Perthel Homes to anyone building a new home or an addition to an existing home.
We both built our home in 2007 and remodeled with Perthel Homes 2016. From a remodeling perspective we liked that one of the owners came to our house and worked with us to understand the scope of our project and then helped to fit it within our budget. The finished project looks amazing and we constantly receive compliments from friends and family when they see it. Thank you Perthel Homes!!!
Ben was great to work with throughout the process. We found Ben to be honest, responsive, and enjoyed working with him. The work was done well and of good quality. We have now been in our home about three months and Ben has been available and has continued to be responsive with any questions that we have had. If we ever build a new home again, we will be working with Perthel Homes.
We lived in Menomonee Falls for the last 5 years in a Perthel Home. Over the last 5 years we had little to no issues due to the high quality of construction and the attention to detail. The customer service to Perthel Homes is second to none. Even when we had small issues with our home they immediately addressed, rectified in a very short period of time. We never had to wait on a sub-contractor for a significant period of time and the work was always completed to our satisfaction. If you are looking for a high quality built home with excellent service after the sell, I would definitely recommend Perthel Homes.
Our experience with Perthel Homes was excellent! We chose them for our new home building and the experience was fantastic. They were easy to work with, quick to respond and answer any questions that we had, and very thorough with all home details. I really appreciated that Ben took the time to get to know our family and our personal home building needs. I would highly recommend Perthel to anyone looking to build a new home.
Perthel homes has been outstanding to work with on our first custom home! From design to finishing touches Zach and Ben worked with us on a daily basis through much of the construction and were their to answer any and all questions as we went through the building process. High quality contractors that built the home on time and in budget.
I can't say enough good things about Perthel Homes. We have lived in 2 homes built by Perthel Homes. They did a custom build for our 2nd home with them. In addition to getting a home that was extremely well built and a good value for the money, what I liked the most were a few things. They were very transparent on their costs and expenses, and their customer service and responsiveness was outstanding. In order to accommodate our schedule, we had meetings and walkthroughs at all times of the day and night, as well as weekends. When resolving issues, nothing seemed to be a problem. Everything that that came up was dealt with quickly and fairly.

My experience with them was just terrific. They made the daunting task of building a custom home a whole lot more manageable. We couldn't be happier.
We were fortunate enough to have Perthel Homes build us our dream home. If you are looking for a builder, you can stop looking — Perthel is the best choice. From our first meeting with Ben until the day we moved in and beyond the entire team at Perthel Homes made our experience amazing.

Perthel took our vision and exceeded our wildest dreams. At every step of the way the team was always willing to answer our questions, meet us on site, or take us to another property for inspiration.

Perthel homes is a family run operation and throughout we felt as if we were part of their family.

The quality of their workmanship is unmatched. Their attention to detail is spectacular.

If we ever build again, there is no question who we will use — Perthel Homes.
When we started our house hunting, we weren't planning on building. We fell in love with a home built by Perthel, but it wasn't completely what we were looking for. We planned to just go on house hunting, but we were saddened to pass up a beautiful home. When Perthel Homes found out what we were looking for, they told us about a future home being built and had just been framed. We went to check out the house, and it had everything we wanted. Perthel Homes graciously let us come in and make the home our own. They forewent their original plans, and they let us come in and design it. They were so easy to work with, so responsive to our questions, and helped us make some of the decisions along the way since this was our first experience with building a home. In the end, they built us a beautiful home we hope to grow into for years to come. They are even gracious enough to continue to answer our questions in the future if anything should come up. To sum it up in our toddler's words, "this house is amazing!" Thank you Perthel!
Working with Perthel homes was a fantastic experience. We talked with MANY builders but kept coming back to Perthel. Building from out of state, communication was important to us and Ben and Jackie were very responsive. We wanted someone we could trust since we would not be able to be on the build site frequently, and Perthel made us feel completely at ease. Ben and Jackie always made time for us to talk when needed, provided regular updates and we were always welcome to call, text, or email if we had any questions or concerns. With Perthel you will have direct communication with those actually involved with building your house. It's a small family company and you will not have to go through a bunch of middlemen to get questions answered or find out what is happening with your house. We had heard horror stories from friends and family who have built new homes so we were worried, but we did not need to be as we had ZERO problems. Every conversation we have had with someone else who has built a house reassures us what a great decision we made with who we chose. Any small repairs needed at the house since we have been here have been dealt with quickly. We are very happy with our beautiful home and are confident that the quality of our house is superior to those around it. We hope to never have to build a house again but if we did, our first call would be to Perthel.
We finished our home with Perthel Homes in 2019. From the start of our build we knew we had selected the best home builder in Wisconsin. We worked with their team all the way from purchasing a vacant lot to putting finishing touches on our new home. We had met with all the big builders and none came close to the value and personal touch that Perthel Homes offered. When it came time to select a builder it wasn't even a debate and we never regretted our decision. We are impressed with so many parts about the building process with Perthel, but two of the top things that come to mind are the Quality of the build and value they offered. Both of these qualities were top on our list and we are beyond happy with how everything turned out. If we ever build again, there will be no debate that Perthel Homes would be asked to build our home.
Building with Perthel Homes was an absolutely fabulous experience. We just finished and we would start all over again with them! From our very first meeting to our final walk-thru, everyone that we worked with was professional, prompt, honest and demonstrated excellence. At our first meeting, Ben and Jackie walked through the process of homebuilding with us and following that guided us every step of the way. They were always completely transparent with us about expectations for our budget and unlike many others we have talked to ended the process ahead of schedule and right on budget. There were no surprises along the way! We are planning to finish our basement and eventually add-on an outdoor space and there is no one else I would trust to do that work for us but Perthel Homes. We are so grateful that we found them to build our dream home.
It was an absolute pleasure working with Perthel Homes in building our second house. It was night and day between working with Ben and Jackie at Perthel compared to our previous experiences. They were on top of their game and provided us with excellent updates and time frames as progress was made. It couldn't have been an easier process. I would recommend them to anyone!
Called the builder of our house from 24 years ago, was a previous owner then. Issue I had was an out of square cabinet on the kitchen wall. New owner, Ben Perthel, came out the very next day and fixed it. Very nice guy and cabinet is now square. And he didn't charge me. Talk about great customer service!!!!! That's very hard to find these days.
Perthel Homes is a family company through and through and they take care to build your home as if you are their family too. We have built two homes with Perthel and if we were to build a third (!), we'd have no doubt in putting Perthel at the top of our list again. We were looking at existing homes and kept noticing the superior quality of Perthel-built homes so we called Ben directly and ended up favoring new construction. Our first Perthel home was a spec build where we stepped in as future buyers at the point where it was roughed and had only half a roof! We were able to make every decision from there. Desiring a more secluded and wooded lot, a more spacious garage, indoor recreation options, and a vast main living space, we bought a lot with Ben's input and started designing the home of our dreams. Ben worked tirelessly, sitting with us evening after evening, collaborating and bringing our dream home alive. He is very knowledgeable and working with him certainly removed several revisions that would have been required with a lesser-qualified designer/builder. Ben is a true techie which made designing the basement around our golf simulator an easy ask. Zack works quietly (to us anyway!) behind the scenes to create quality and so clearly cares about every last detail, like anchoring the batting cage netting to the spancrete walls and hand-selecting and creating a custom mantel for our living room, to be so proud to sign his name on a hidden section of rough carpentry in the basement mechanical room, one of our favorite parts of both of our Perthel Homes! Ben and Zack are onsite just about every day of the build. James too! While not a Perthel by name, he might as well be. James cared so much to make everything right. Every detail. And so fast! Always so helpful. Always felt like top priority. Jackie helped us sell our first Perthel home, with a full-price offer in hand almost immediately on listing, working toward a quick, event-free closing. We'd ask any of them, "Can we do this?" Always yes. We'd say, "I wish this were this other way, can we adjust that?" Always yes. They make it right. Always. We have called Ben night and day and he's always there for us. He even lives nearby and stops by at the drop of a hat to take a look at something we call about! If he doesn't know, he checks with Zack, they check with their dad, or they call on their hand-picked and trusted contractor partners. We couldn't ask for more trustworthy builders. We can't say enough about this family and would recommend them to anyone in search of a custom home builder to trust for a lifetime.
We love our Perthel-built home. From design to construction to finished product, Perthel worked to ensure that everything we wanted in our home was done and done right, with the utmost quality and care. There are so many features in our home that would have been upgrades with any other builder. We have peace of mind knowing that the building materials are of higher quality and will stand the test of time. Perthel was responsive and answered all of our questions throughout the building process. They really built and worked as if this were their own home. I expected this process to be stressful based on feedback from family and friends who have built, but it really wasn't. They are knowledgeable and walked us through each step of the way. We are thrilled that the home we dreamed up is a reality and full of luxurious and quality finishes. All of their subs and vendors were professional and friendly. Perthel even helped us sell our previous home in the process. You won't be disappointed!
Ready to Start Building Your Dream Home?